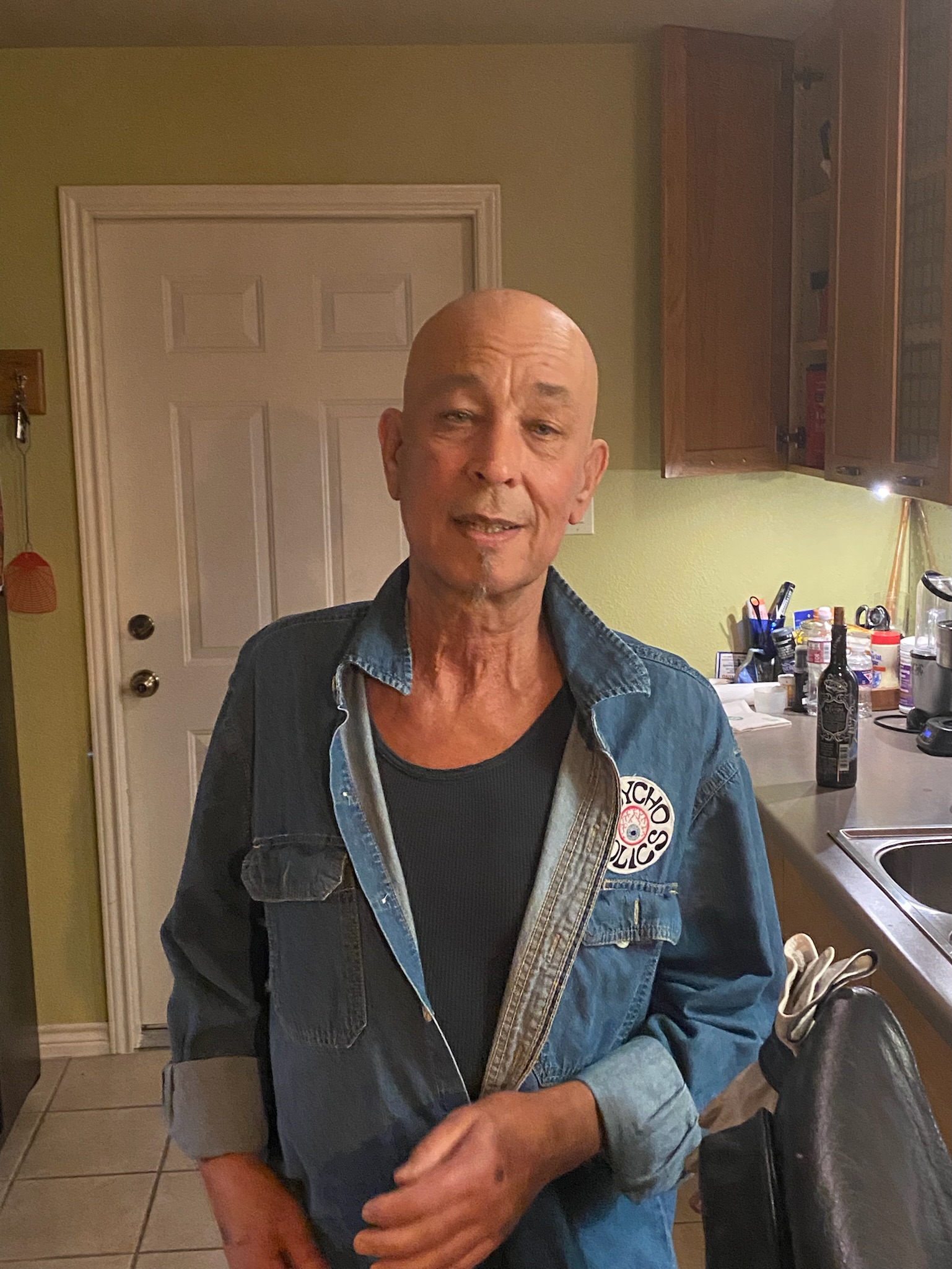 Saturday, July 22, 2023, at 12:30 pm
Gardens of Old Town Helotes
15060 Antonio Dr
Helotes, TX  78023
TIMOTHY'S OBITUARY
Timothy Russell Mrak, born March 8, 1965,  to Steve and Leonora Mrak in San Angelo, Texas, passed away on July 4 at age 58, after a short stay at the Methodist Hospital. Tim's remaining immediate family consists of his father, Steve, and two sisters, Carol and Janice, and her husband, Patrick McWilliams and sister-in-law, Linda Mrak. His mother, Leonora, and eldest brother, Robert, preceded him in death.
Tim, the youngest family member of a career Air Force officer, navigated the rigors of attending more than 15 schools from Darmstadt, Wiesbaden Air Base, and later, Ramstein Air Base in Germany. In the US, he attended schools in Montgomery, Alabama, and San Antonio, Texas. He graduated from Marshall High School in San Antonio, TX, in 1983.  
After graduation, he learned how to install irrigation systems at golf courses. Some of his projects included the prestigious Dominion Country Club in San Antonio, Galveston Country Club, Feather Bay Golf Course in Brownwood, Texas, a Nicklaus course in Jackson, Mississippi, and a development course in Carefree, Arizona. Hoping to become a Golf Course Superintendent position, he studied Agronomics and Golf Course Management at TEXAS STATE TECHNICAL COLLEGE.  
Sadly, Tim had to leave college after a diagnosis of renal failure in March of 1990. A life driven by renal care, Tim adopted a battle rhythm to deal with his constant need for dialysis. With the help of the University Hospital Renal Unit and, later, US Renal Care in San Antonio, Tim lived a full life despite all 33 years of treatment.  
He spent his free time following his passion for writing music and his artistic tendencies through songwriting and art. A prolific reader, Tim studied the dictionary and loved learning new words. He could talk on any subject with acumen. Tim's most beloved passion was for his band, the Psychololics, which he fondly described as Bizarro Rock. The band produced three CDs over its 30-year existence and has a following in San Antonio. Tim was also known for his sense of humor, quick wit, and zest for life. He worked hard at getting the most out of life, even with so much adversity. (Articles about Tim and the Psychoholics can be found here. https://www.sacurrent.com/music/tim-mrak-the-colorful-frontman-of-san-antonio-rock-band-the-psychoholics-has-died-32109333)
Family and friends will celebrate Tim's life on July 22, 2023. Location: "Gardens at Old Town Helotes" at 1230 p.m. After a brief service, there will be an opportunity for friends to share stories about Tim and spend time enjoying each other's company at a light lunch - which he would have loved. Instead of flowers, family and friends may contribute to Tim's Memorial Fund through the American Kidney Fund.   https://fundraise.kidneyfund.org/fundraiser/4793912
But most of all, be sure to help us Celebrate Tim:  
Saturday, July 22, 2023, at 12:30 pm
Gardens of Old Town Helotes
15060 Antonio Dr
Helotes, TX  78023